Jurassic World: Dominion Dominates Fandom Wikis - The Loop
Play Sound
UNDER CONSTRUCTION

This article is unfinished and is currently undergoing active development at this time. Wiki assigned staff will continue editing this article and unlock the page once it's ready. Thank you for your patience.
The Tokyo No. 1 Colony Arc (東京第1結界編, Tōkyō Dai-Ichi Koronī-hen?) is the tenth arc in Gege Akutami's Jujutsu Kaisen. It follows Yuji Itadori and Megumi Fushiguro as they enter the Tokyo No. 1 Colony. Their goal is to track down Hiromi Higuruma and convince him to add a new rule to the Culling Game.
Synopsis
Enter the Culling Game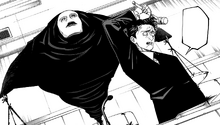 In addition to incarnated sorcerers from past time periods, Kenjaku has made players out of modern-day people like Hiromi Higuruma as well. Higuruma is a lawyer who awakened his cursed technique during a fit of rage when his defendant, Keita Oe, was unjustly found guilty during his trial. Higuruma eventually became one of just two players in the Toyko colonies to have scored at least one hundred points.[1]
Non-players who begin inside the colonies are given a chance to exit. Such is the case of Yuji's hometown friends, Setsuko Sasaki and Takeshi Iguchi, who were both in Sendai City when the Sendai Colony barrier was formed. The former was escorted out of the barrier by Kenjaku personally. Everyone taken outside the colony met Kenjaku, but Sasaki received special treatment for befriending his son, Yuji. This occurred on November 1, 2018, around 6:00 AM just hours after the Shibuya Incident concluded.
In preparation for entering the Culling Game, Kinji Hakari decides that Yuji and Megumi will infiltrate the Tokyo No. 1 Colony to find Higuruma. Hakari and Panda will take the No. 2 colony to track down Hajime Kashimo and the Angel. On November 12, 2018, around noon, all four of the Jujutsu High students, Yuji, Megumi, Hakari, and Panda, declare their participation in the Culling Game.[2]
Megumi warns Yuji about past sorcerers who desire to fight to the death and they both head inside the Tokyo No. 1 Colony barrier. They're unexpectedly split up once inside, with the barrier transporting players to different parts of the colony by dropping them from the sky. Yuji is ambushed while in mid-air by a player who targets rookies using an airplane hair cursed technique named Hanyu. She's guided through the air using flight batons by the unwilling Rin Amai, a weak player who recognizes Yuji.
Yuji student makes short work of Hanyu and is confronted by her partner, Haba, shortly after. Meanwhile, Megumi clashes with a troublesome girl named Remi who he decides to ask about Higuruma. However, Remi is difficult to deal with and says she'll only help Megumi if he promises to be her knight.[3]
Yuji defeats Haba's helicopter hair technique and meets Rin Amai, who's also from his hometown of Sendai City. Remi informs Megumi that modern-day sorcerers have gone into battle mode after almost two weeks in the Culling Game, meaning he accidentally mislead Yuji. At the same time in different places, Rin and Remi both claim they have information leading to Higuruma. However, Rin tells Yuji he's in Ikebukuro while Rin insists to Megumi that he's in Shinjuku. One of them is being led into a trap laid by a receipt hoarder named Reggie Star.[4]
Rin earnestly leads Yuji to Higuruma's base of operations while Remi leads Megumi into an ambush. This leads to a direct confrontation between Megumi and Reggie where the former is fed up with Remi's antics and summons Divine Dog: Totality to dispatch them both.
Inside a theater Higuruma has been using as his headquarters, Yuji is able to find the former lawyer. Yuji asks to use Higuruma's one hundred points to add a rule that will negate the forced killing of the Culling Game. However, Higuruma isn't in his usual state of mind and has become discontent with the justice system since Keita Oe's trial. Yuji believes he can negotiate with Higuruma because he's someone from the present day who might listen to reason.
However, Higuruma refuses Yuji because he wants to see the rules of the Culling Game lawfully enforced in real-time. When their conversation breaks down, Yuji is forced to demand the points and Higuruma definitely stands against him with his cursed technique activated.[5]
The Trial of Yuji Itadori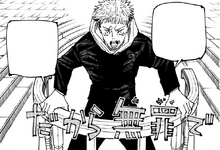 Higuruma immediately traps Yuji inside his Domain Expansion, Deadly Sentencing. It is a court-based, non-lethal domain that doesn't permit any violence inside its parameters. It simply forces Yuji to follow the rules of the cursed technique. Higuruma's technique puts Yuji on trial with his shikigami, Judgeman serving as its namesake. Yuji is accused of entering a pachinko parlor underage and is ultimately found guilty after being outclassed by Higuruma's superior skills in a courtroom. Judgeman strips Yuji of his ability to wield cursed energy as a result of the verdict.[6]
While Yuji can resist Higuruma's early onslaught thanks to his superhuman physical skills, its not long before he's completely overpowered. Higuruma proves to be an elite sorcerer with a genius intellect but his technique has one compensatory weakness. Before he's crushed, Yuji exploits this by demanding a retrial, putting them both back inside the non-violent domain. However, Yuji's second trial accuses him of mass murder during the Shibuya Incident. Still guilty over what happened in Shibuya, Yuji takes responsibility and doesn't deny the charges.[7]
Yuji's admission earns him the Death Penalty, granting Higuruma the Executioner's Sword that can kill a target with one hit. Despite being able to destroy his opponent with a single cut, Higuruma is distracted by Yuji's confession. The proceedings of his technique provide evidence during the trial, which proved that Sukuna was responsible and not Yuji. Higuruma was always a lawyer who fought for innocent defendants regardless of the odds stacked against them. He never closed his eyes to the truth before and he's unable to prosecute an innocent man himself now. Higuruma allows himself to be bested by Yuji by willfully deactivating his cursed technique instead of securing a victory.
Higuruma reveals to Yuji that he was reminded of why he became a lawyer in the first place. Returned to his normal state of mind, Higuruma sits with Yuji and they're able to talk. He asks Yuji why he would take responsibility for what Sukuna did and the Jujutsu High student explains it only happened because he's too weak. Higuruma values that weakness that only exists in humans and realizes there are still more weak people that need help. He agrees to help Yuji by adding his preferred rule to the Culling Game.[8]
By successfully negotiating with the game master through Kogane, Higuruma gets the rule accepted. The new rule, rule ten, allows players to transfer points between one another. This directly affects score calculation for rule eight, which punishes players for stagnating their score with cursed technique removal.
Higuruma gives one of his remaining two points to Yuji so they'll both remain unaffected for nineteen days and begins to leave the theater. Yuji tries to stop Higuruyma and asks for his skills in further combating the Culling Game. However, Higuruma feels he needs to take responsibility for murdering the Judge and Prosecutor from Keita Oe's trial and plans to turn himself in. He also believes being around Yuji would make him hate himself more and decides to depart, leaving Yuji alone.[9]
Sorcerers are Con Artists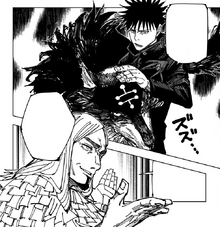 Back with Megumi, he threatens his adversaries with Divine Dog's presence but Reggie surprisingly applauds him. He can tell Megumi is strong just based on the shikigami and asks him to join up with his group. He also asks what Megumi knows about the Culling Game. Megumi gives the explanation that Master Tengen provided without mentioning them, but Reggie believes that explanation is a bluff, or at the very least secondary to Kenjaku's main goal. He has solid reasoning to believe that Kenjaku will put a late twist on the Culling Game and it will have served its purpose once only the strongest players remain.
Megumi only agrees to join Reggie's group if they transfer all their points to him and negotiations immediately break down. Chizuru Hari, another player in Reggie's group, tries to ambush Megumifrom behind but he's easily incapacitated. Reggie injures Divine Dog and another member of the group, Iori Hazenoki, bombs Megumi with a surprise attack using his own flesh.[10]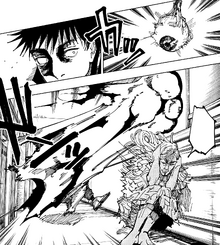 Hazenoki's severed eyes and teeth function as explosive projectiles without any regard for Remi's safety. Megumi avoids suffering any fatal damage but he's worn down and Remi keeps bothering him because she's unable to come to terms with her situation. Hari rejoins the fight and Kogane announces a tenth rule has been added to the Culling Game. It's the rule Yuji added, giving Megumi inspiration to keep fighting. With increased morale, Megumi overpowers Hari and even eliminates him, determined to wave away any difficulties that cross his path.
Remi withdraws from the fight but Reggie and Hazenoki pursue Megumi. Before Megumi has to suffer getting hit by more bombs, a newcomer enters the fray and takes the hit from an explosion for him. The newcomer is Fumihiko Takaba, a player with zero points and a comedic attitude who tries to play off his new injuries by claiming coward's attacks do zero damage.[11]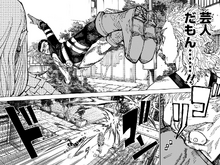 Takaba decides to help Megumi even the odds but everyone is taken back by his goofy attitude. Thanks to his unexpected strength and determination to entertain, Takaba is able to separate Hazenoki from Reggie. Megumi finally gets Reggie one-on-one and announces that his goal has already been completed in this colony, so he can fight earnestly without holding anything back now.[12] He uses a combination of shikigami that includes Max Elephant in order to try and nullify Reggie's Contractual Re-Creation technique, which manifests items written on receipts. Megumi expends a lot of cursed energy to do so and he's already been worn down the earlier explosions. Reggie manifests a spa treatment to recover his stamina and is confident Megumi doesn't have any big moves that can effectively finish the fight without Divine Dog.
Megumi acts like he's fleeing and lures Reggie into a gymnasium only to be quickly overwhelmed by Reggie's uncanny combination of martial arts and re-created items. Reggie knows Megumi is up to something but he's always suspicious because he believes sorcerers are nothing but con artists. Before Megumi loses too much ground, he reveals his trump card and activates Domain Expansion: Chimera Shadow Garden. The gym is a perfect fit for Megumi's domain, and by converting the space into Chimera Shadow Garden, he's able to forcibly enclose the barrier and trap Reggie inside. Reggie underestimated Megumi and didn't figure Megumi to be a sorcerer of this level. Megumi tells him that he never admitted to not having any big moves.[13]
The domain doesn't incorporate a can't-miss attack but the Ten Shadows Technique is pushed to 120% of its potential. This is enough for Megumi to overpower Reggie and nearly defeat him. However, Reggie doesn't allow himself to lose and summons three cars that drop into Megumi's shadow. Reggie deduced that Megumi has to bear the weight of anything in his shadow and turns the domain's conditions against him. Megumi counters using the shadows above Reggie to drop Max Elephant right on top of him, turning the fight into a contest of withstanding immense pressure.[14]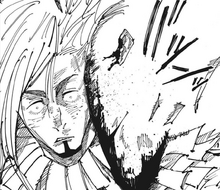 Reggie attempts to activate his "ace" while holding up Max Elephant only to fall into the shadows. He falls indefinitely through the darkness until he commands one of the cars he dropped inside earlier to take him back to the surface. Once rescued, Reggie uses his "ace", summoning a small house guaranteed to crush Megumi with its weight. Megumi hides in his shadow and dispels the domain so the house breaks the floor of the gymnasium and sends both fighters falling into the basement pool below. Megumi gets a hold of Reggie and nearly drowns him, forcing the latter to dispel the cars in Megumi's shadow to get rid of the weight.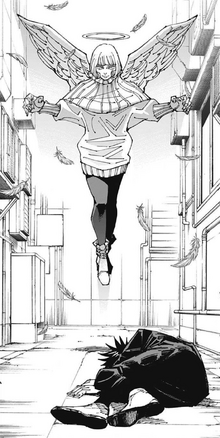 Both combatants get out of the pool and claim to be unable to use their cursed techniques any longer, agreeing to settle their fight with a physical exchange. Reggie believes Megumi can still summon a shikigami and is still confident it won't be Divine Dog. He tries to pressure Megumi into panicking and summoning a shikigami so he can counterattack at that moment. However, Reggie is dealt a fatal blow from behind by none other than Divine Dog itself. Megumi used the domain and the pool to get his opponent to completely dismiss the shikigami, a mistake Reggie pays dearly for. Collapsed on the ground and bleeding out, Reggie reiterates a sorcerer is nothing but a con artist.[15] Dignified in defeat, Reggie transfers all 41 of his points to Megumi before he dies. In his last moments, Reggie asks Megumi to let fate play with him before he inevitably suffers a foolish death.
Meanwhile, Hazenoki is unable to make any headway while trying to bomb Takaba. None of his explosions seem to have any effect no matter how many times he appears to score a direct hit. Kogane informs Hazenoki that Reggie has been eliminated and the sorcerer gives up fighting Takaba and leaves. Takaba is so powerful because his Comedian technique makes anything he thinks will be funny into reality. It's a technique so strong it could oppose Satoru Gojo, but Takaba is utterly unaware of it. Remi flees the area while panicking about how men have influenced her life. Divine Dog tracks her down and corners her to make good on Megumi's threats, but Tsumiki's voice suddenly dissuades him. Megumi collapses from exhaustion and suddenly the Angel, Hana Kurusu, descends upon him.[16]
Jujutsu Battles & Events
Chapters
Characters Introduced
Terminology Introduced
Setting
See Also
References
Navigation