She-Hulk Trailer Dropped - The Loop
Play Sound
The Ten Shadows Technique (十種影法術, Tokusa no Kage Bōjutsu?) is an inherited technique passed down in the Zenin Family. Using shadows as an intermediary, this technique allows the user to summon ten different shikigami.[1]
Description
When someone inherits the Ten Shadows Technique, they receive two Divine Dogs. Other shikigami can be summoned with an exorcism ritual where the user must defeat the shikigami in order to make them submit.
Once dominated, the shikigami are under full control of their master and can be summoned using hand signs that create a shadow puppet of the respective familiar. The shadows act as the intermediary for the shikigami conjuration, reflecting the shape of the user's hand-weaved shadow puppet and manifesting the shikigami from tangible liquid shadows using cursed energy. After gaining more familiars, the user can repeat the ritual process to exorcise and amass up to ten different shikigami. [2][3]
The summoning ritual for the shikigami can be performed around multiple people. However, exorcising the shikigami with help nullifies the technique once the exorcism is completed.[4]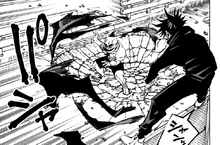 The Ten Shadows Technique can be activated and deactivated at any time to manifest and dispel shikigami as long as the user has enough cursed energy.[5] As with any shikigami, the more powerful it is, the more cursed energy required to summon it.[6]
Shikigami of the ten shadows cannot be summoned again when completely destroyed. However, the power left behind by the shikigami is inherited by others. In the case of the Divine Dog shikigami, if one dies, the other will inherit its power and can be summoned in a far more ferocious form. The exception to this rule are any shikigami that are summoned by combining two different shadows, such as The Well's Unknown Abyss.[7]
Domain Expansion
Main Article: Chimera Shadow Garden
The complete version of the Ten Shadows Technique's Domain Expansion: Chimera Shadow Garden has yet to be fully explored. Megumi is able to achieve an incomplete version that floods the area with liquid shadows that he can freely manipulate and use to summon shikigami at will.[8]
Usage
The inherited technique of the Zenin Family has been recognized by several high-level jujutsu users as an immensely powerful technique with boundless potential. Sukuna suggested it easily outclasses the strength of a special grade finger bearer and has taken an interest Megumi ever since seeing it.[3][9][10][11] The Zenin Family was willing to pay a small fortune to reintroduce it back into the household by buying Megumi from his father.[12]
In battle, Megumi is the rare case of a shikigami user who also fights at close combat. Megumi can store weapons and cursed tools in his shadows to aid him[13], mainly using his shikigami to support him. As each shikigami provides a different skillset, this gives Megumi access to a wide variety of different abilities he can mix up to use in various ways.[14][15][16] At the time of the Goodwill Event, Megumi was capable of summoning up to three shikigami at once.[17]
In addition to supportive roles, Megumi allows his more offensive shikigami to fight directly alongside him. He's familiar with their abilities and is able to combo them well. He used a torrent of water from Max Elephant against Noritoshi and then followed up by attacking with Nue's electroshock wings.[18] He understands their weaknesses as well and will deactivate them before they're completely destroyed if possible.
Megumi often employs dispelling his shikigami as a way to feint an attack. Using shikigami on their last legs is a good way for him to create a distraction.[19] In a similar fashion, Megumi will conjure a shikigami and dispel it just as fast to confuse an enemy.[5]
Satoru Gojo revealed to Megumi that a Limitless user like himself and Ten Shadows Technique user like the latter once clashed as heads of their respective families. He used this as a way to suggest that Megumi can become as powerful him, the strongest current sorcerer.[20] Megumi believes the head of the Zenin Family at the time likely used an exorcism ritual to summon a shikigami so strong it can't be controlled, such as the Eight-Handled Sword Divergent Sila Divine General Mahoraga. This causes Megumi to hold himself back, believing he can always fall back on sacrificing himself in a worst-case scenario.[21] He nearly attempted to do so against Sukuna and the second finger bearer he faced.[22][23]
However, in Megumi's battle with the finger bearer, he recalled advice from Satoru and Sukuna to look past his limits. This allowed Megumi to envision a more powerful version of himself, giving him the confidence to use Domain Expansion rather than continuing to rely on summoning Mahoraga.
Although incomplete, achieving the activation of Chimera Shadow Garden vastly improved Megumi's shadow manipulation abilities. He is capable of using shadow fakes to evade fatal hits and can even hide in his opponent's shadow with a shikigami while the Domain is active.[24]
Grievously injured and with no other choice after being surprised attacked by a curse user named Haruta Shigemo, Megumi chose to summon Mahoraga. Not a single Ten Shadows Technique user has ever been able to exorcise it. While they can't use a shikigami unless it's defeated in the exorcism ritual, they can still be summoned at any time in an attempt to exorcise them. Exorcising one of the shikigami with multiple people voids the ritual. Normally this would be a pointless exorcism, but in this situation Megumi used Mahoraga to drag his opponent into the ritual as well, leaving himself in a suspended state of death. This eventually allowed Sukuna to rescue him.[25]
List of Ten Shadows Technique Shikigami
Megumi's Shikigami
Not Yet Controlled
Trivia
The Ten Shadows Technique draws inspiration from the "Ten Sacred Treasures" (十種神宝, Tokusa no Kandakara) of Shinto. The markings on many of the shikigami (Nue and Rabbit Escape are the exceptions) reflect the sacred emblems of the regalia:
References