Satoru Gojo (五条悟, Gojō Satoru?) is one of the protagonists of Jujutsu Kaisen. He is a teacher at Tokyo Metropolitan Curse Technical College.
Appearance
Satoru Gojo is a tall man, standing over 190 centimeters, and is apparently considered by many women to be attractive. He has white hair that's often spiked up, but Gojo lets it down when he's in more casual attire. Gojo has bright blue eyes, but they're normally covered by his signature black blindfold or a pair of dark sunglasses.
While working, Gojo wears an all-black high-necked jacket with matching pants and dark dress boots. In the past, Gojo has worn bandages over his eyes rather than his simple blindfold. He has several different casual attires that usually include long-sleeved shirts and slacks. He even wears long-sleeved hoodies to the beach with black swim trunks.
Personality
Satoru is a complex individual, as he is usually nonchalant and playful towards people such as his students and colleagues, but unsympathetic and cruel with people such as the Sorcerer Executives. He is very confident in his abilities and reputation as a powerful sorcerer; casually dismissing personal threats from Sukuna and saying that he could defeat the King of Curses easily.
Abilities and Powers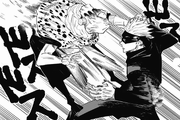 Overall Skill: Satoru is said to be one of, if not the strongest sorcerer in the series, holding both immense amounts of Cursed Energy and a dangerously powerful technique. He has also demonstrated himself capable of utilizing the Domain Expansion technique.
Immense Strength: He has great physical strength to fight against powerful curses without problems, delivering powerful punches and throwing Jogo a large distance with a single kick during their fight.
Superhuman Speed and Reflexes: He has great speed, managing to follow the movements of Jogo without effort, and throwing almost imperceptible punches and kicks. He was shown to be able to move faster than the eye can perceive.
Tactical Intelligence: Gojo was shown to be quite tactical and has shown to be able to figure out what his opponent is planning with just enough information. He's also shown to be extremely adaptable to pretty much any enemy he's faced so far, knowing exactly what to do in order to counter their techniques and defeat them.
Jujutsu
Trivia
He started eating sweets as a way to stimulate his brain, but ended up with a sweet tooth.
He can do anything he tries, so he tries not to get too involved with anything. According to him, this is all for the sake of the next generation.
Principal Yaga was his teacher when he was a student.
Satoru's face was regularly shown in the JUMP GIGA prequel: Tokyo Metropolitan Magic Technical School (all four chapters).
Satoru ranked 3rd place in the manga's 1st Character Popularity Poll with 16,923 votes.
References
Community content is available under
CC-BY-SA
unless otherwise noted.