Disaster Plants is Hanami's innate technique. It grants him powerful chlorokinetic abilities.
Description
This technique allows the user to form and control a variety of cursed flora. Its capabilities are normally initiated telepathically, activating the technique next to the user or near a target, but can also be deployed from the user's body.
The plants created by this technique can vary in size, shape and physiology. Anything from simple flowers to giant wooden roots is possible to be formed. The flora of the technique is however still made from cursed energy, meaning that curse-like plants can be created quickly and deactivated instantly.[1]
The technique also grants the ability to absorb the life energy of real plants into a flower offering and convert it into cursed energy for the user. This ability can give a giant boost of cursed energy.[2]
Usage
Hanami's innate technique is his primary form of combat and he is quite experienced and proficient at it. He has a good grasp of his abilities, knowing exactly how to use them. Hanami can also use his plants as a source of transportation, giving him the ability to go past barriers and curtains.[3]
The technique arms Hanami with a wide variety of cursed plants, each with different capabilities: wooden skewers that can pierce his opponents,[4] branches that can bind them,[5] as well as flower-like curses that can nullify his opponent's will to fight.[6] Hanami's cursed wood can also be used to create wooden monsters.[7]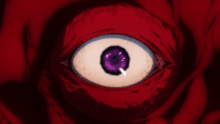 Hanami's technique is innately combined with his body. He can use his right hand's fingers to form cursed plants.[8] When Hanami's left arm is exposed, he can use it to siphon the life-force of nearby plants and convert it into cursed energy. Plants do not embrace cursed energy, so Hanami cannot manipulate them. He can create cursed energy from plant life and send it all to the flower offering on his right shoulder.[9]
The big advantage given by the flower offering is a massive boost of cursed energy. Hanami can keep this energy stored within his body for prolonged periods of time. The main ability Hanami can use with this boost of cursed energy is Domain Amplification.[10]
Trivia
Despite being prominent in the series, this technique does not currently have an official name and was only referred to as "Hanami's cursed technique" in the supplementary material.
References