She-Hulk Trailer Dropped - The Loop
Play Sound
UNDER CONSTRUCTION

This article is unfinished and is currently undergoing active development at this time. Wiki assigned staff will continue editing this article and unlock the page once it's ready. Thank you for your patience.
Cursed Spirit Manipulation (呪霊操術, Jurei Sōjutsu?) is an Innate Technique used by Suguru Geto that allows him to control curses he exorcises and takes in.[1]
Description
As the name suggests, Cursed Spirit Manipulation is a technique where one can completely control cursed spirits they were able to conquer in battle. Rather than exorcise a cursed spirit, the user can absorb them into a small black sphere. A cursed manipulator can also collect absorb curses from anyone also capable of controlling them by killing the master.[2]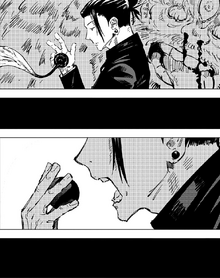 Orally consuming this orb of the curses remains gives the user complete dominance over the vagabond curse, allowing them to summon them at any time in the future.[3][4]
If the difference in grade is two levels or more, the curse manipulator can absorb a cursed spirit with practically no conditions attached.[5] The user can extract the curse technique of semi-grade 1 and above cursed spirits they absorb[6], providing them with an immense arsenal of potential different moves.[7] However, the quality of the cursed spirit's technique ceases to grow the moment they are absorbed.[8]
Cursed Spirit Manipulation operates functionally the same as shikigami conjuration. However, no intermediary is required and the quality of vagabond cursed spirits tends to be greater than simple shikigami.[9] When summoned, the user's curses appear from the same portals they would use to manifest naturally. The curse manipulator can create portals of various sizes from their body and summon any number of curses from them at the same time.[10]
Due to the nature of consuming curses, a curse manipulator's cursed energy also feels different than that of a normal sorcerer.[9] There doesn't appear to be any limit on the number of curses that can be absorbed and it is unknown what happens to the cursed spirits taken in after the user dies.[11]
Usage
Suguru Geto
Suguru Geto's innate technique was exceptional enough to earn him the rank of special grade while still a student at Tokyo Jujutsu High. As second-year students, Suguru and Satoru Gojo were considered close to the same level of strength. Along with the Limitless user, Suguru was also known as the "strongest".[12]
Suguru could capture curses on missions and then take them in to continuously add to his arsenal throughout time.[13] By the time of the Star Plasma Vessel Escort mission in 2006, Suguru had a number of powerful curses in his possession. He mainly utilized their abilities by summoning them in battle alongside him similar to how a traditional shikigami user would fight.[9]
Using a plethora of different curses, Suguru had a number of ways to approach any situation. Most of his targets could be overwhelmed with the sudden summon of one of his gigantic curses.[14] Outside of offensive curses, Suguru also possessed surveillance spirits[15], flying spirits for maneuverability[16], decoys[17], restraining curses[18], and even docile spirits for carrying allies[19].
In spite of all its advantages, Suguru suffered significant drawbacks to his psyche as a result of this technique while working as a sorcerer. He compares consuming cursed spirits to eating a rag used to clean vomit, a taste no one else knows. The endless cycle of exorcism and consumption for Suguru distorted his feeling about the long road of being a jujutsu sorcerer.[20]
After becoming a curse user, Suguru disguised himself as the head of a Buddhist Temple to attract cursed humans with the promise of exorcising their mysterious ailments. Victims would travel to his temple to receive healing, making it easy to collect a large amount of money and cursed spirits over that decade.[21]
In addition to the curses Suguru already possessed, he collected 6,462 cursed spirits.[22] Two thousand of those curses were released in both Kyoto and Shinjuku when Suguru performed a Night Parade of a Hundred Demons. Most of these were grade 2 or below, but he possessed a number of higher grade curses as well.[23]

Suguru kept over four thousand curses to himself while the Night Parade was going on. He intended to use all of his power to isolate Yuta Okkotsu and kill him in an attempt to add special grade vengeful spirit Rika Orimoto to his collection. In his fight with Yuta and Rika, Suguru began with quantity over quality, using various weaker curses to attack.[24] In the battle's climax, Suguru resorted to using one of his most powerful curses, special grade imaginary vengeful spirit Tamamo-no-Mae Incarnate and also used Maximum: Uzumaki at the same time.[22]
Kenjaku
Kenjaku obtained Suguru's body solely to obtain his curse manipulation technique.[25] In Shibuya, Kenjaku summoned the special grade disease curse Smallpox Deity to fight with Mei Mei. It acted as its own independent fighter and Kenjaku claimed he would fight Mei Mei if she was able to exorcise it.[26] Mei Mei destroyed Smallpox Deity and Kenjaku confronted her using a dragon-like curse, and apparently almost killed her in their fight.[27][28]
When Yuji tried to forcefully obtain Prison Realm from Kenjaku, the curse user countered him with by dropping a small catfish-like curse into the ground. It merged with the earth and opened a gigantic gaping hole that simulated a falling effect for Yuji. However, rather than falling into the hole, Yuji fell directly into the ground, confusing him.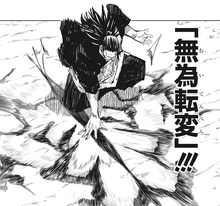 This led into Kenjaku explaining he believes the main strength of Cursed Spirit Manipulation is the high variation in moves at his disposal. He possesses numerous cursed spirits semi-grade 1 and higher and can release more when an opponent figures out how to counter one. Kenjaku added that he didn't have to allow time for that and could just pile on the cursed techniques instead. Then he proceeded to exactly that, wrapping Yuji in a centipede-like curse before making him fall and piling on more centipedes. Kenjaku genuinely thinks that Geto would have defeated Yuta if he didn't divide his forces for the Night Parade of a Hundred Demons.[29]
With Mahito severely weakened from his defeat at the hands of Yuji, it was simple for Kenjaku to seal him in a black sphere and consume him. By utilizing the technique's extracting effect of Maximum: Uzumaki, Kenjaku was able to obtain Mahito's Idle Transfiguration and satisfy the early conditions for beginning Culling Game.[30][31] In order to flee from Shibuya with Prison Realm, Kenjaku unleashed numerous curses to cover his escape.[32]
Kenjaku released the special grade cockroach curse Kurourushi from Cursed Spirit Manipulation so it could participate in the Culling Game as a player.[33]
Maximum Technique
Maximum: Uzumaki (極ノ番「うずまき」

,

Gokunoban・Uzumaki

?

) combines any number of cursed spirits in the user's possession into one and it's the target with a blast of supercondensed cursed energy. When curses of semi-grade 1 or higher are included in Uzumaki, their cursed techniques are extracted and kept by the curse manipulator.[34]
List of Curse Manipulation Spirits
Cursed Spirit
Description
A giant man-eating hookworm-like curse with sharp teeth with innards large enough to capture and swallow large curses or capture them for Suguru to take in later.[35] This was a prominent curse in Suguru's arsenal during his days as a second year. He could use it indoors to fill entire hallways and keep fights with other sorcerers at long distance. It always appears suddenly from the ground, so Suguru could use a decoy during a stand off before abruptly summoning the giant hookworm curse for a surprise attack. Additionally, Suguru also used the mass of this curse to create a blind spot for himself, creating a false opportunity for his opponent to get in close.[36] It was the curse he defaulted to upon first encountering Toji Fushiguro. It was able to swallow and momentarily immobilize Toji, but the worm was eventually cut open from the inside by a cursed tool.[37]
A flying curse with an appearance similar to an aquatic sting-ray. It is capable of levitating and has enough size to support Suguru and one other person.
A tall curse with a fungus base and several heads atop it capable of capturing Suguru's targets. Upon doing so the largest head on the curse will attempt to kiss whoever is captive.[38]
A docile curse with two eyes, eight legs and horns big enough to support and carry a full grown human.
Surveillance curses with multiple eyes each that can be used to observe a large area. However, Suguru cannot share their vision like Mei Mei can with her birds. He must check in every so often to learn of their status. At least two of them were exorcised by curse users.[39]
Two small single-eyed curses that act as decoys for Suguru while standing off with opponents.
"Rainbow Dragon" (虹龍

,

Kō Ryū

?

) is a large long dragon-like cursed spirit with the toughest skin among all Suguru's curses. It is a powerful curse capable of attacking with great and brute force to crush Suguru's target.[40] It was exorcised by Toji Fushiguro wielding a cursed tool.[41]
"Kuchisake-Onna" (

口裂け女

,

Kuchisake-Onna

?

) is an Imaginary Vengeful Spirit from the popular yokai legend.[42] It is capable of trapping Suguru's targets within an Innate Domain with a pact that can't be dispelled until the target answers the question. If the answer isn't to her liking, the spirit can instantly create scissors from thin air as soon as the domain disappears. They appear close to the target's limbs, ready to snip them off at any moment. It too was exorcised by Toji Fushiguro.[43]
References
Navigation