Jurassic World: Dominion Dominates Fandom Wikis - The Loop
Play Sound
UNDER CONSTRUCTION

This article is unfinished and is currently undergoing active development at this time. Wiki assigned staff will continue editing this article and unlock the page once it's ready. Thank you for your patience.
The Culling Game (死滅回遊, Shimetsu Kaiyū?) is the most unprecedented act of jujutsu terrorism ever enacted. The conflict immediately follows the Shibuya Incident and is orchestrated by Kenjaku with the goal of evolving humanity by optimizing cursed energy. The game functions as a lethal battle royal between jujutsu users that serve as players, and points are scored by killing one another. Players must adhere to the strict rules of the game and fight across ten barrier colonies that form a line down Japan.
Prologue
Kenjaku's Preparations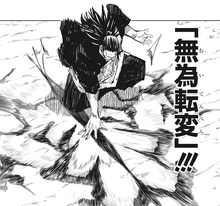 At the very end of the Shibuya Incident, Yuki Tsukumo confronts Kenjaku. They have conflicting ideologies on how to take humanity's relationship with cursed energy to the next stage.
Kenjaku believes there must be more potential to cursed energy in the form of human beings than jujutsu sorcerers and cursed spirits. His first attempt to achieve something greater was the Cursed Womb: Death Paintings. However, this only taught Kenjaku that something of his own creation cannot exceed his own potential. Therefore, he must create uncontrollable chaos in order to reach an answer that's shrouded in darkness.
By extracting Mahito's cursed technique using Cursed Spirit Manipulation, Kenjaku was able to remotely cast Idle Transfiguration and activate two types of non-sorcerers he marked. The first type are people who ingested cursed objects, similar to Yuji Itadori. The second type are people who gained cursed techniques despite having brains that were meant to be non-sorcerers, like Junpei Yoshino. Both had their brains adjusted for jujutsu. The former gained strength as vessels for sorcerers from past eras. The latter gained the capacity to use cursed techniques as new sorcerers for the modern era.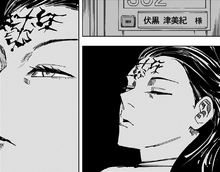 Kenjaku also breaks the seal on all the cursed objects he had the vessels ingest. Some of the marked ones have been in a deep slumber since being exposed to his cursed energy, but they will now awaken.
The cursed objects were the remains of sorcerers Kenjaku made contracts with over a thousand years ago. However, each of those Binding Vows became null when Kenjaku obtained Suguru Geto's body. In order to deepen their understanding of cursed energy, Kenjaku plans on having hundreds of sorcerers fight one another. He's confident the upcoming conflict will reflect the Heian Era, the golden age of jujutsu.[1]
While escaping from Shibuya, Kenjaku released countless cursed spirits into Tokyo, creating a chain reaction from the Shibuya Incident that spread over ten million curses that compromised the twenty-three wards. Megumi Fushiguro learns of his sister's involvement and tells Yuji Itadori that she's been ensnared in Kenjaku's battle royal between jujutsu users called the Culling Game. Megumi recruits his allies and contacts Master Tengen in order to learn more about the Culling Game and Kenjaku's objectives.[2]
About the Culling Game
Master Tengen reveals Kenjaku couldn't use their barrier to turn everyone in Japan into sorcerers with Idle Transfiguration because he lacks the cursed energy. That method would be wildly inefficient, so Kenjaku has chosen to evolve humanity by merging them with Master Tengen.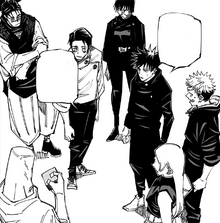 The evolved soul of Master Tengen is now the world itself, and merging with them would create beings that are greater than a sorcerer. However, they would be new beings that are both "there and not there", meaning there are no boundaries between individuals. Not unlike what befell Tokyo, evil would spread and the impurity of a million people would flood the entire world beyond just Japan.
According to Master Tengen, the Culling Game uses the players' cursed energy and the barriers for a ritual that prepares the humans of Japan for the merger. Through this custom, Master Tengen can be forced to merge with the humans of Japan and "convey them to the other side". In order to perform such a ritual, Kenjaku has undertaken specific binding vows, one of them being that he is not the game master. This works against Megumi's group because killing Kenjaku will not end the game. The Culling will continue until all the players are dead and its rules ensure that nothing can interrupt the ritual.[3]
There are ten colonies around Japan that are connected by boundary-binding barriers that form a line down the archipelago. This does not include Hokkaido because of the Jujutsu Society barrier and its status as a sacred area. Every human in Japan has been cursed in preparation for the merging ritual.
There is no rule about entering or exiting the colonies and from the start of the game, players receive the objective of exiting the barriers as a way of stimulating competition. In order for the barriers to confine all the players, they're strengthened by the premise that the players entered of their own free will. Little is known about the game master, but shikigami known as Kogane serve as the game interface. All players are subject to strict rules, but Kenjaku will receive no bias.[4]
Plan to Rescue Tsumiki Fushiguro
Megumi believes that freeing Satoru Gojo from Prison Realm could solve the conflict, but they will need a player called the Angel. She is a sorcerer from a thousand years ago with the ability to extinguish cursed techniques. Her cursed technique would be able to free Gojo using the back of Prison Realm, which is in Tengen's possession.[5]
Megumi and company formulate a plan to combat the Culling Game and free his sister using information from Master Tengen. While rules of the game can't be subtracted, they can be countered by players in roundabout ways with added rules. Yuta Okkotsu enters the Sendai Colony in Miyagi right away in order to gather information on the game.[6]
Meanwhile, Yuji and Megumi recruit Kinji Hakari and Panda to help. Hakari agrees to cut a deal with them and all four students are present for an announcement detailing an additional rule to the game added by Hajime Kashimo. This rule grants players more information on one another. Following the announcement, Kogane introduces itself to Yuji Itadori as his personal liaison to the game. Yuji is already being counted as one of the players despite not being in a colony or either type of player Kenjaku awakened. Yuji believes it's possibly due to his relationship with Sukuna.
Megumi uses Yuji's Kogane to look at the list of players provided by the new rule. He wants to find someone with a hundred or more points who isn't interested in adding rules. By pressuring that player into adding a rule to allow Tsumiki to get out of the Culling Game, the students can avoid killing people.
The first rule they need to offset is rule eight, which subjects players to curse technique removal should their score remain the same for nineteen days. They can do so by adding a rule that allows players to freely exchange points. Megumi also suggests adding a rule allowing players to spend points to get out of the game. Hakari argues that would conflict with the long-lasting effect on the game. Megumi agrees but believes it might work on the condition that it substitutes a non-player into the game.
Their plan of action is to look for the Angel in order to break the seal on Prison Realm. At the same time, they'll hunt down Hajime Kashimo and Hiromi Higuruma in order to force them to add favorable rules to the game.[7] However, Kogane has no listing for the Angel and only knows that she might be located in east Tokyo. Regardless, Hakari plans to go with Panda into the Tokyo No. 2 Colony to combat Hajime Kashimo. Yuta hasn't been in touch since entering the barriers, meaning they block cellphone reception. Hakari asks Kirara Hoshi to remain outside the barriers to keep an eye on things. Yuji and Megumi will enter the Tokyo No.1 Colony to find Hiromi Higuruma, another player with one hundred points.
On November 12th at 12:00 P.M. in Tokyo, Yuji, Megumi, Hakari, and Panda all officially declare their participation in the Culling Game and enter their respective colonies.[8]
Rules
Original Rules of the Game
1. Once a player has awakened their cursed technique, they must declare their participation in the Culling Game at the colony of their choice within 19 days.
Players were awakened by Kenjaku at around Midnight on October 31st. This gives players like Tsumiki Fushiguro until roughly November 19th to declare their participation.
2. Any player who breaks the previous rule will be subject to cursed technique removal.
Cursed Technique Removal (

,

Cursed Technique Removal

?

) is a mysterious process that does not involve Idle Transfiguration. Shoko Ieiri theorizes that it affects the player's brain and would definitely kill them. Otherwise, all the players could simply refuse to participate. Master Tengen confirms that the process would indeed end the player's life.
Players without cursed techniques aren't at risk of dying from this rule.
3. Non-players who enter a colony become players at the moment of entry and will be considered to have declared participation in the Culling Game.
Civilians already inside a barrier at the start of the game will be given at least one chance to exit safely.
4. Players score points by ending the lives of other players.
5. The point value of a player's life is decided by the game master. As a general rule, sorcerers are worth 5 points and non-sorcerers are worth one point.
Cursed Spirit participants are worth 5 points as well.
6. Excluding the point value of the player's own life, a player can expend 100 points to negotiate with the game master and add a new rule to the game.
Rules cannot be subtracted.
7. In accordance with rule 6, the game master must accept any proposed new rule as long as it doesn't have a long-lasting effect on the game.
8. If a player's score remains the same for 19 days, they will be subject to cursed technique removal.
Player Additions
9. Players gain access to information on other players, such as their name, amount of points, number of rules added, and their current colony.
This rule was added by Hajime Kashimo.
10. Players may transfer any number of points between one another.
This rule was added by Hiromi Higuruma.
Players
Tokyo No. 1 Colony
Tokyo No. 2 Colony
Sendai Colony
True Purpose
Event
Tokyo No. 1 Colony
Sendai Colony
Aftermath
Battles
Hiromi Higuruma vs. Haba

Fumihiko Takaba vs. Megumi Fushiguro

Yuta Okkotsu vs. Dhruv Lakdawalla

Yuta Okkotsu vs. Kurourushi

Yuta Okkotsu vs. Takako Uro vs. Ryu Ishigori

Kinji Hakari vs. Charles Bernard

Panda vs. Hajime Kashimo

Kinji Hakari vs. Hajime Kashimo
References